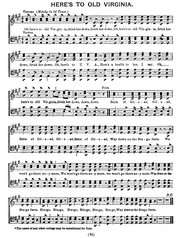 "Here's to Old Virginia"
is a
University of Virginia
song collected in the 1906
Songs of the University of Virginia
anthology by
A. Frederick Wilson
. The anthology records no authorship for the song, but parallel songs exist at other universities.
The roots of the song appear to include two distinct earlier songs. The second part of the song quotes melody and text from "Balm of Gilead" (collected in Minstrel Songs Old and New)[1]. The first part of the song was likely a common college song, as variants appeared at Yale University ("Here's to Good Old Yale"),[2] University of Chicago, where it is called "Bingo,"[3] Milwaukee-Downer College ("Here's to College Hall"),[4] and Smith College ("Balm of Gilead").[5] The song is attested other places, including as a sorority song for Alpha Omicron Pi.[6]
Glee Club performances
Edit
The oldest documented performance of "Here's to Old Virginia" was in February 1894 as part of the Glee Club concert (February 1894); as that performance used repertoire from the Glee Club's January 1894 tour, it is likely the song was performed on that tour as well.
The song is recorded on Songs of Virginia.
References
Edit
Community content is available under
CC-BY-SA
unless otherwise noted.