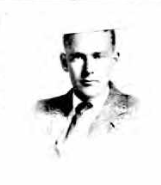 Hugh Maury Hite (September 12, 1896 in Cambridge, Massachusetts – July 25, 1937)[1][2] was on the executive committee of the Virginia Glee Club during the Glee Club 1917-1918 season. 
Hite's background is unclear; while he appears in a 1917 College Topics article as part of a committee to "reorganize" the Glee Club, he appears to have left the University thereafter to join the Aviation Corps in France during World War I.[3] Subsequently, he is listed in the Harvard class of 1918 in a Harvard alumni report dating from 1921,[4] and appears in a 1923 Harvard Crimson article as a winner of a declamation prize.[5]
In 1921, Hite was employed as a teacher in New Haven, Connecticut. He had become connected with the Harvard Glee Club in the intermediate years and applied for a passport in 1921 to accompany them on tour.[1]
Community content is available under
CC-BY-SA
unless otherwise noted.