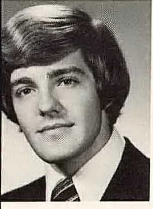 James Daron Richardson (September 2, 1951 in Lexington, Kentucky – May 9, 1997)[1] served as librarian of the Virginia Glee Club during the Glee Club 1970-1971 and 1971-1972 seasons, and was a member during the 1972-1973, 1974-1975, 1975-1976, and 1976-1977 seasons. He also served as the Glee Club accompanist for some performances, including on the recording A Shadow's on the Sundial. He graduated from the University of Virginia with a BA in 1973. While at the University he received intermediate honors and was in Phi Eta Sigma[2] and the Virginia Gentlemen.[3]
Richardson finished his medical degree at the University in 1977 and moved to Washington, DC, where he attended a performance by the San Francisco Gay Men's Chorus that inspired him and others to found the Washington Gay Men's Chorus. As the only member of the founding group with formal musical training, he volunteered to serve as interim conductor, leading the group in its first public performance, and served on the board of directors. He later practiced radiology in Houston, Texas. He died in 1996 of an AIDS-related illness.[1]
Community content is available under
CC-BY-SA
unless otherwise noted.