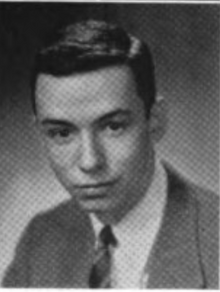 John Archer Carter (born December 1931 in Marion, Virginia – died August 4, 2009)[1] was a member of the Virginia Glee Club during the Glee Club 1950-1951 season. He graduated from the University of Virginia in 1953, and was also a member of the Thirteen Society, the IMP Society, Phi Beta Kappa, Kappa Alpha, the Westminster Fellowship, Omicron Delta Kappa, Phi Eta Sigma, the Jefferson Literary and Debating Society, Lambda Pi, and T.I.L.K.A., and was editor in chief of Corks and Curls, treasurer of the Student Union, Vice President of Pi Delta Epsilon, and Vice President of the Raven Society.[2]
His University of Virginia Magazine obituary states:
Mr. Carter taught at the University for four years after serving in the U.S. Army. In 1961, he began teaching British and American literature at Wake Forest College, where he went on to become chairperson of his department and president of the university senate. Mr. Carter was active in the Victorian Periodical Society from the mid-'70s through the mid-'80s, serving as vice president and president.[3]
Community content is available under
CC-BY-SA
unless otherwise noted.