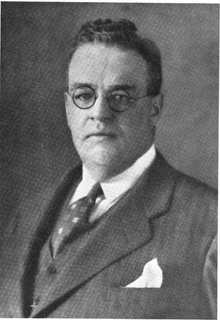 John Jennings Luck (December 24, 1883 in Roanoke, Virginia – September 15, 1938)[1], was a member of the Virginia Glee Club during the Glee Club 1904-1905 and 1905-1906 seasons.[2] A fifth year at the University of Virginia during the season, he was also a member of Lambda Pi and the Glee Club Quartette and was the assistant editor of College Topics,[3] as well as the Hot Feet, Arcadians, IMP Society, Raven Society, Phi Beta Kappa and the Jefferson Literary and Debating Society.[4] Because of his long tenure at the University, he lived in multiple Lawn rooms over the years, including 14 East Lawn (1899–1902, 1904–1905), 34 East Lawn (1902-1903), 51 West Lawn (1905–1906), and 47 West Lawn (1906–1907).[5]
Luck received his bachelors degree from the University in 1901, his M.A. in 1903 and his Ph.D. in 1908. After receiving his Ph.D. he joined the faculty of Vanderbilt University where he was an assistant professor of Mathematics. He returned to the University of Virginia in 1916, joining the Mathematics faculty and becoming a full professor in 1923. He died of a heart attack in 1957 in the University of Virginia Hospital.
Community content is available under
CC-BY-SA
unless otherwise noted.