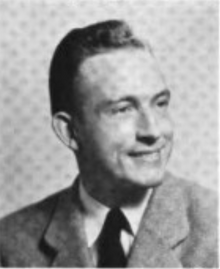 John Royster Roberson (March 7, 1930 - October 30, 2009),[1] of Roanoke, Virginia, was a member of the Virginia Glee Club during the Glee Club 1947-1948 season. Graduating in 1950, he was also a member of the Y Cabinet, the Westminster Fellowship Cabinet, the Student Party, and Phi Eta Sigma.[2]
His University of Virginia Magazine obituary reads:
At the University, he was a member of the Raven Society and the Glee Club. Mr. Roberson served in the U.S. Army. He was an editor and writer at Holiday magazine in Philadelphia and New York City and was later a copywriter at the N.W. Ayer advertising agency in New York City. Mr. Roberson was a senior staff editor at Reader's Digest Condensed Books until his retirement. He wrote articles for many magazines and was the author of three history books for adolescents, China from Manchu to Mao, 1699-1976; Japan from Shogun to Sony, 1543-1984; and Transforming Russia.[3]
Community content is available under
CC-BY-SA
unless otherwise noted.