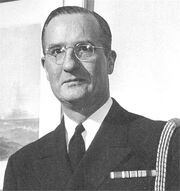 John Williams Avirett, Jr. (May 13, 1902 in Cumberland, Maryland – October 23, 1993)[1] was a member of the Virginia Glee Club during the Glee Club 1921-1922 season. A third year during the season, he was also a member of Phi Gamma Delta, Skull and Keys, O.W.L., the German Club, the reportorial staff of College Topics, assistant editor of Corks and Curls, editor in chief of the Virginia Reel, and manager of the basketball team.[2]
Avirett earned his BA and MA from the University of Virginia and a law degree from Harvard University. He served in the US Navy during World War II as part of a team focused on managing the supply chain, reaching the rank of Captain.
Community content is available under
CC-BY-SA
unless otherwise noted.