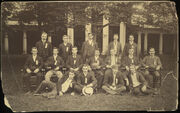 Joseph Reid Anderson Hobson (June 12, 1867 in Richmond, Virginia – July 22, 1938)[1][2] was conductor of the Virginia Glee Club during the Glee Club 1887-1888 season[3] and a member during the 1888-1889 season.[4]
Hobson was a student at the University of Virginia from 1885 through 1890. In 1887-1888 he studied Latin, Greek, Modern Languages, Moral Philosophy, and Natural Philosophy.[1] As a student, he was a member of Alpha Tau Omega; business manager of Corks and Curls in its founding year of 1888;[5] and managed the UVa baseball team in 1890.[6] He was also a member of Eli Banana.[7]
After graduating from the University with his law degree, he practiced law and then went into business with the Bell Telephone Company. At the time of his sudden death in 1938, he was vice president of the Tredegar Company.[8]
References
[
]