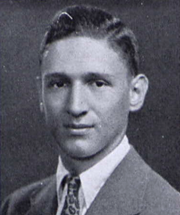 Kenneth Seaman Giniger (born February 18, 1919 in New York, New York)[1] was a member of the Virginia Glee Club during the Glee Club 1936-1937 season. Graduating in 1939, he was also a member of the Jabberwock Society, the International Relations Club, editor of The Cavalier, and College Topics (associate editor) and University of Virginia Magazine (associate editor).[2] He lived in 7 West Lawn[3] in 1938–1939.
While at the University, Giniger planned the first Woodrow Wilson Memorial Banquet for the Jefferson Society. Called by the Society's historian Werner Janney "the most energetic committee-man to arrive on the scene in 111 years," Giniger transformed the event from a simple new-member meet and greet to a star-studded evening featuring Edith Bolling Wilson (Mrs. Woodrow Wilson) as the guest of honor, alongside five US Senators, the University's president, a Supreme Court justice, and the governor of Virginia. The evening ended with the unprecedented election of Mrs. Wilson as an honorary member of the Jefferson Society, the first female member of any kind in the society.[4]
Giniger also studied at the New York Law School in 1940-1941. He served in the United States Army from 1941 to 1945, rising to the rank of captain, and was the assistant to the director of the Central Intelligence Agency from 1951 to 1952. He became a publisher, working for Partner Signet Press, Prentice-Hall, and was the president of Hawthorn Books, Inc. He founded the K.S. Giniger Company in 1965, and wrote several inspirational books including A Treasury of Golden Memories. He is a recipient of the French Legion of Honor, and of the Norman Vincent Peale award for Positive Thinking (awarded by the Blanton-Peale Institute in 2006).[5]
References
Edit
Community content is available under
CC-BY-SA
unless otherwise noted.