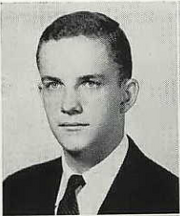 Kermit Lowry, Jr. (May 30, 1935 – March 25, 2006)[1] was a member of the Virginia Glee Club during the Glee Club 1952-1953, 1953-1954, 1954-1955, and 1955-1956 seasons. While studying chemistry at the University of Virginia he was also a member of Phi Delta Theta, Phi Eta Sigma, was head cheerleader for the football team, and was a founding member of the Virginia Gentlemen.
Dr. Lowry completed his medical degree at Emory University in 1959. He was also a US Army veteran. He was a team physician for the Tennessee High School Athletic Department, a founding member of the State of Franklin Surgical Society, and was instrumental in establishing the Bristol Surgical Center and the medical school at East Tennessee State University, where he was on the faculty.[2]
Community content is available under
CC-BY-SA
unless otherwise noted.