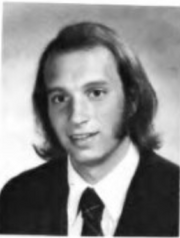 R. Laird Boles, of Cambridge, Massachusetts, was president of the Virginia Glee Club during the 1974-1975 season. He graduated from the University of Virginia with a BA in 1975. While at the University, he sang in the Virginia Gentlemen and played bass in the Glee Club orchestra. After graduation, he taught high school and is now a performing musician, playing in the band Tripping Lily and other ensembles.[1]
Community content is available under
CC-BY-SA
unless otherwise noted.