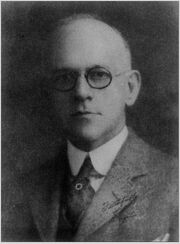 Lawrence T. Royster (August 18, 1874 in Norfolk, Virginia – January 7, 1953)[1][2] was a member of the Virginia Glee Club during the Glee Club 1893-1894[3] and 1896-1897 seasons.[4][5] While at the University of Virginia he was a member of Phi Theta Psi and the Corks and Curls staff.[6] He was among the students who saved the statue of Thomas Jefferson from the burning Rotunda in 1895.[7]
After graduating in 1897, he became a physician. He taught pediatrics on the faculty of the University of Virginia Medical School.[8] He was the founding doctor at the Baby Clinic of the Kings' Daughters, later the Childrens' Hospital of the Kings' Daughters.[9] He was inducted into Phi Beta Kappa in 1919[10] and Alpha Omega Alpha in 1922.[11]
Community content is available under
CC-BY-SA
unless otherwise noted.