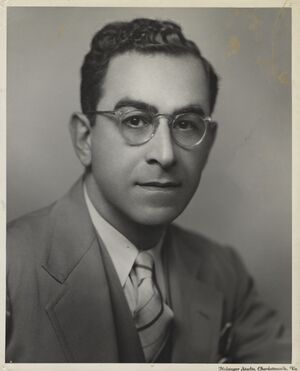 Ernest Linwood Lehman (1895-January 23,1953)[1] was a professor and alumnus of the University of Virginia who is best known to Virginia Glee Club audiences as the author of the Virginia Yell Song.
A native of Suffolk, Lehman was in the first class of initiates for the Zeta Beta Tau fraternity at UVa.[2] He graduated from the University with a bachelors degree in 1915, took his masters in 1917, and finished his PhD in 1920, when he became an assistant professor of Latin.[3] He became full professor in 1930.[1] Among his students was Glee Club member Ernest Mead, who remembered Lehman as "somewhat offbeat with chic tastes, great humor and fine sensibilities."[4]
Lehman was one of only two Jewish faculty members at UVa during the first half of the 20th century.[5]
References
[
]