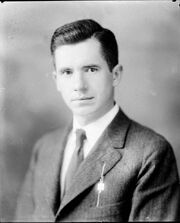 Malcolm Woodson Gannaway (born October 3, 1889 in Sandidges, Virginia; died May 14, 1967 in Little Rock, Arkansas)[1] was the president of the Virginia Glee Club during the 1910-1911 season and the 1915-1916 season.
Gannaway was a member of Phi Delta Theta and the Jefferson Literary and Debating Society, and graduated from the University in 1911 with a B.A., where he sang a solo during the baccalaureate ceremony.[2] He won the Rumrill Graduate Scholarship to Harvard[3] and subsequently received an M.A. from Harvard in 1912. He returned to the University of Virginia as a summer session instructor, teaching mathematics at the University of Virginia Summer Session during the 1912, 1913, and 1914 sessions, teaching English at Woodberry Forest during the year in 1912-1913.[4] He subsequently returned to the University and obtained a law degree.
During the 1915-1916 season he returned to the re-forming Glee Club, serving as President.
References
Edit