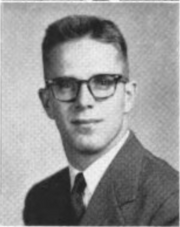 Mark Henry Jander (March 31, 1934 in Tangier, Virginia – January 15, 2015)[1] was the librarian of the Virginia Glee Club during the 1951-1952, 1952-1953 and 1953-1954 seasons; he was also a member during the 1950-1951 season. Graduating in 1954, he was also a member of Delta Sigma Pi, the Jabberwock Society, and the swimming and soccer teams.[2] He was the brother of Glee Club member Owen H. Jander.[3] He returned to the University for a bachelors of mechanical engineering in 1961.[2]
Community content is available under
CC-BY-SA
unless otherwise noted.