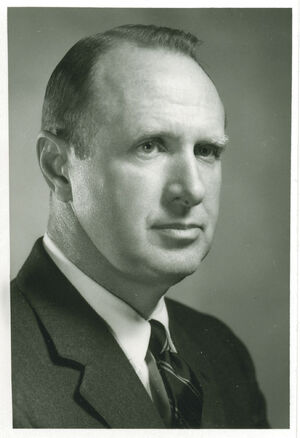 Marvin B. Perry, Jr. (b. 1918 – December 12, 1994) was the manager of the Virginia Glee Club during the Glee Club 1939-1940 season. He also served as librarian during the Glee Club 1938-1939 season, and was a member of Phi Gamma Delta, Lambda Pi, P.K. Society, the Raven Society, the varsity basketball squad, the Interfraternity Council, and was Vice President of the Washington Society and on the editorial board of Corks and Curls.[1][2]  He lived in 28 East Lawn[3] in 1939–1940. After graduation he wrote the liner notes for Songs of the University of Virginia. Perry's brother, John M. Perry, was also a Glee Club member.
He served as a professor of English at the University of Virginia and became Dean of Admissions during the administration of Edgar Shannon. He is credited as dean of admissions with convincing John Casteen III to join the University as a first year student.[4]
He left the University to become president of Goucher College, where he served from 1967 to 1973, and was subsequently president of Agnes Scott College from 1973 to 1982.[5]
References
[
]