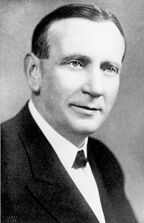 Nathan Lynn Bachman (August 2, 1878 in Chattanooga, Tennessee – April 23, 1937)[1] was the manager of the Virginia Glee Club and the Mandolin and Guitar Club during the Glee Club 1902-1903 season. Prior to completing his law degree from the University of Virginia in 1902, he attended a number of other universities, including Washington and Lee and the former University of Chattanooga (now the University of Tennessee at Chattanooga).
After completing his law degree, he practiced law in Chattanooga, becoming city attorney there from 1906 to 1908 and circuit court judge from 1912 to 1918. In 1918 he became an associate justice of the Tennessee Supreme Court, resigning in 1924 to run for the United States Senate. Though unsuccessful in 1924, in 1933 he was appointed by Tennessee Governor Hill McAllister to fill the unexpired term of Cordell Hull, and was elected to a full term in 1936. He died in 1937, having served less than four months of his elected term.[2][3]
Community content is available under
CC-BY-SA
unless otherwise noted.