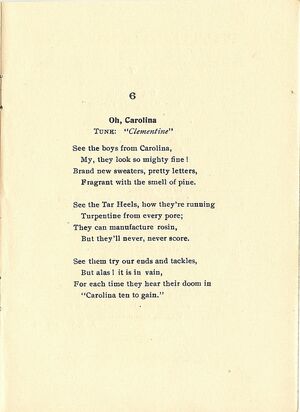 "Oh, Carolina" is a football song of the University of Virginia dating back to the early 20th century. It has been recorded by the Virginia Glee Club. Sung to the tune of Oh My Darling Clementine, the lyrics are credited to W. R. Aylett, Jr., class of 1895.[1]
A product of The South's Oldest Rivalry between the University of Virginia and the University of North Carolina, the song makes mocking reference to the Tar Heels by noting the "smell of pine" and "turpentine from every pore" they are said to possess.
The earliest documentation of the song is in the 1905 Songs of the University of Virginia, which credits the Virginia Glee Club for preserving some of the older songs.
Lyrics
[
]
See the boys from Carolina,
My, they look so mighty fine!
Brand new sweaters, pretty letters,
Fragrant with the smell of pine.
See the Tar Heels, how they're running
Turpentine from every pore.
They can manufacture rosin,
But they'll never, never score.
See them try our ends and tackles,
But alas! it is in vain,
For each time they hear their doom in
"Carolina ten to gain."
References
[
]