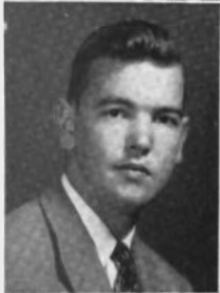 Omer Allan Gianniny, Jr. (December 15, 1925 – August 31, 2012)[1][2] was a member of the Virginia Glee Club during the Glee Club 1944-1945 season. He was a third year engineering student during the season.[3] He lived in 14 East Lawn[4] in 1943-1944 and in 43 West Lawn[4] in 1944-1945.
He was commissioned in the United States Navy in 1945 and served, with periods of inactivity, until 1953. In the interim, he returned to the University and received his bachelors degree in 1947, and subsequently received a Masters of Education in 1958 and a Doctor of Education in 1967. He served as a professor of english at the University of Virginia Engineering School for 38 years. He was a member of Phi Beta Kappa, Tau Beta Pi, Phi Delta Kappa, Omicron Delta Kappa and the Raven Society.[5]
Community content is available under
CC-BY-SA
unless otherwise noted.