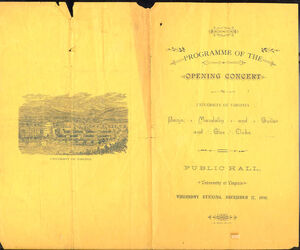 The 1891 Opening Concert of the Virginia Glee Club was the first concert of the Glee Club 1891-1892 season. Held December 17, 1891 in the Public Hall (in the old Rotunda annex) at the University of Virginia, the concert featured the Glee Club with the Banjo and Mandolin Clubs and was directed by J. S. Doubleday.
Dependable Guard March (Shattuck) (Banjo Club)
Invitation to Waltz (C. W. Fleming) (Mandolin Club)
Soldiers' Chorus (Ritterberger) (Double Quartet)
Darkies' Patrol (G.L. Lansing) (BC)
"Waltz Song" from Faust (Gounod) (Whistling solo)
Last Night (Kjerulf) (DQ)
It's a Long Lane that Has No Turn (Lyons) (Mixed Quartet)
Triumph March (Armstrong) (BC)
Flora Waltz (C.W. Fleming) (MC)
Silently We Steal Away (Mozart) (Quartet)
Darkey's Dream (Lansing) (BC)
Dream Faces (Molloy) (DQ)
Mandolins (Malteo) (MC)
Imogene Donohue (Thompson) (Glee Club)
On the Mill Dam (Galop) (Babb) (Banjo, Mandolin, and Guitar Club)
Community content is available under
CC-BY-SA
unless otherwise noted.