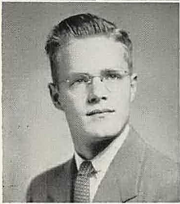 Owen Hughes Jander (June 4, 1930 in Mount Kisco, NY – January 21, 2015)[1] was the librarian of the Virginia Glee Club during the Glee Club 1950-1951 season, and was also a member during 1947-1948, 1948-1949, and 1949-1950. He received his BA from the University of Virginia in 1951. While at Virginia, he also played in the University Orchestra. He lived in 15 West Range[2] in 1949–1950 and in 7 West Lawn[2] in 1950–1951.
Jander is listed in the 1951 Corks and Curls as a resident of Tangier Island, Virginia.[3] After graduating from Virginia, he received his MA and Ph.D. from Harvard University. In 1960 he joined the music department at Wellesley College where he subsequently became the Catherine Mills Davis Professor of Music History. He founded Wellesley's Collegium Musicum and directed the installation of its Fisk Organ.
Owen Hughes Jander was the brother of Glee Club member Mark Jander.[4]
References
[
]