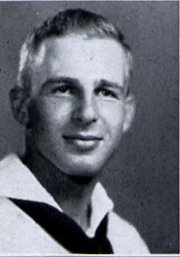 Richard Martin Brandt (September 13, 1922 in Birmingham, Michigan – June 14, 2013)[1] was a member of the Virginia Glee Club during the Glee Club 1941-1942 and 1942-1943 seasons. While a student at Virginia he was also a member of Alpha Tau Omega, Theta Tau, the freshman baseball team, the German Club, and T.I.L.K.A..[2]
He graduated from Virginia with a bachelors degree in mechanical engineering in 1943, and joined the Navy as an officer serving in both the Atlantic and Pacific theaters. He subsequently received a masters degree in education from the University of Michigan and a doctorate from the University of Maryland, and joined the faculty of the Curry School of the University of Virginia in 1965, becoming dean of the Curry School from 1974 to 1984.
Community content is available under
CC-BY-SA
unless otherwise noted.