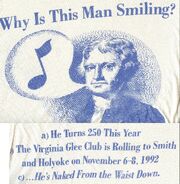 The Virginia Glee Club's 1992 fall roll to Smith and Holyoke, held November 6-8, 1992, featured collaborations with both schools' Glee Clubs. John Liepold directed the Virginia Glee Club in the roll, the first tour of the Glee Club 1992-1993 season.
The concert at Smith College featured an opening set from the Virginia Glee Club with the "David and Absalom set" (Josquin Des Pres's "Absalon, fili mi," William Billings' "David's Lamentation," Thomas Tomkins's "When David Heard," and Benjamin Broening's "When David Heard"); Time Piece; and a set of spirituals and chanteys (What Shall We Do With the Drunken Sailor, Shenandoah, and Ride the Chariot). The second half featured a performance from the Smith College Glee Club, Lucinda Thayer conducting, and a joint performance of the Chichester Psalms of Leonard Bernstein.
Community content is available under
CC-BY-SA
unless otherwise noted.