The 1968 Spring Concert of the Virginia Glee Club, during the 1967-1968 season, was conducted by Donald Loach and featured the Sweet Briar College Choir, G. Noble Gilpin, director, and the University of Virginia Orchestra, Walter Ross, conductor. The concerts were held April 5, 1968 at Sweet Briar College and April 9, 1968 at Old Cabell Hall. The featured work was the Schubert Mass in G.
The concert was held the day after the assassination of Martin Luther King, Jr., and the concert was interrupted to announce the assassination. David Temple, Glee Club member and the first African American to desegregate the fraternity system by helping to re-colonize Pi Lambda Phi, recalls the announcement:
It was at the annual Spring Concert performance of the Glee Club in April 1968, when they interrupted the program to report that Martin Luther King Jr. had been assassinated in Memphis. Temple, remembered, the dead silence that fell across the room, and the horror and lonely pain that filled him, at the announcement.[1]
David B. Witt also remembered the event, but says the announcement happened at a rehearsal:
Witt … was in Old Cabell Hall for a Glee Club rehearsal when somebody announced that the civil rights leader had been killed in Memphis. "To be in the relative shelter of UVA—at the time almost totally white and male—made the event seem unreal to me," Witt recalled…[2]
1968 Spring Concert program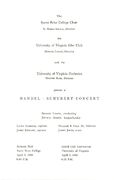 Cover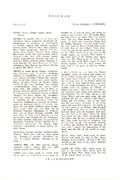 Program, p.1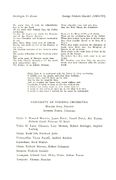 Program, p.2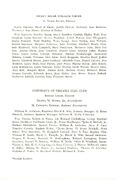 Rosters 
Community content is available under
CC-BY-SA
unless otherwise noted.