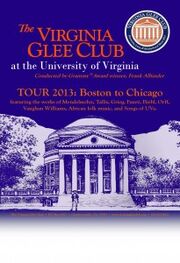 The Virginia Glee Club Spring Tour of 2013, the major tour of the Glee Club 2012-2013 season, began in Northampton, Massachusetts at Smith College on March 9, 2013 and concluded with a performance at the University of Chicago on March 15. Frank Albinder chronicled the tour on his tour blog.
Tuesday, March 12 – Natrona Heights, PA (Pittsburgh area), Natrona Heights Presbyterian Church – 7:00 PM
Wednesday, March 13 – Ypsilanti, MI (Ann Arbor area), First United Methodist Church – 7:00 PM
Thursday, March 14 – Westlake, OH (Cleveland area), Westlake United Methodist Church – 7:00 PM
Friday, March 15 – Chicago, IL - Collaboration with Chicago Men's A Cappella, Rockefeller Chapel, University of Chicago – 8:00 PM
Programs were selected from the following music:
Community content is available under
CC-BY-SA
unless otherwise noted.