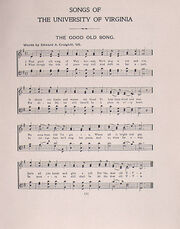 The Good Old Song
is the de facto
alma mater
of the
University of Virginia
. It is set to the music of
Auld Lang Syne
.The song is often said to be the University's fight song, but the actual fight song is the
Cavalier Song
.
Various sources, including the Cavalier Marching Band, ascribe the authorship of the Good Old Song to Virginia Glee Club member[1] Edward A. Craighill on or about 1895,[2] even though Craighill's 1922 article on the song disclaims sole authorship.[3] The best documentary evidence to date indicates that the song's lyrics were more or less spontaneously composed by a group of students in 1893, and that by 1894 the song was already being documented in the student annual, Corks and Curls.[4]
Though "The Good Old Song" was the de facto alma mater by 1900, it has never been made an official song of the University. Other songs have been given official status by student vote over the years--"Virginia, Hail, All Hail!" and "The Cavalier Song" won a 1923 contest sponsored by College Topics and were named the University's alma mater song and fight song, respectively--but remain relatively unknown among the general student body.[5] According to the Virginia Pep Band, the University's band from 1974 to 2003, the University's Athletic's Department attempted to replace the Good Old Song with a more lively post-touchdown song during the 1970s. They relate that the students of the Pep Band refused to abandon the song in spite of the orders, and it is thus still played today. [6]
Modern performance and controversy
Edit
The song can most often be heard at football games immediately following each Cavalier score (or the extra point attempt). Virginia alumni and fans join hands or embrace as they sway back and forth singing the first verse of the song followed by pumping fists to the chant. It is reserved for celebrating the success of a score and is never sung during play, merely as a cheer.
Over the past thirty years, it has become a practice of some fans to chant "Not gay!" after the line "Where all is bright and gay," in what has been described as a homophobic act. Beginning in 2001, there have been petitions and organized protests against the practice,[7] with limited success.[8]
Verse 1
That good old song of Wah-hoo-wah--we'll sing it o'er and o'er
It cheers our hearts and warms our blood to hear them shout and roar
We come from old Virginia, where all is bright and gay
Let's all join hands and give a yell for the dear old UVa.
Chant
Hoo-rah-ray, hoo-rah-ray, ray, ray--U-Va!
Verse 2 [9]
What though the tide of years may roll, and drift us far apart
For alma mater still there'll be a place in every heart.
In college days we sing her praise, and so, when far away,
In memory we still shall be at the dear old U-Va.
Verse 3 [10]
And when from out life's struggle we can gather now and then
Around our dear old mother's knee and be her boys again,
We'll ever pledge our faith again anew and in affection's wine
We'll drink a cup of kindness to the days of auld lang syne.
References
Edit
External links
Edit
Community content is available under
CC-BY-SA
unless otherwise noted.