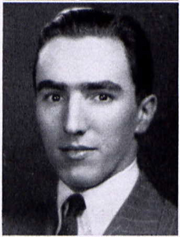 Theodore Aley Ayers (April 30, 1920 in Peru, Indiana – September 9, 1965)[1] was a member of the Virginia Glee Club during the Glee Club 1938-1939 season. Graduating in 1941, he was also a member of Phi Delta Theta, Skull and Keys, P.K. Society, the cross country team, and was a department editor for Corks and Curls in 1940.[2][3] He lived in 15 West Lawn[4] in 1940–1941.
Ayers entered the US Army during World War II. He entered journalism as a reporter for the Washington Times Herald, and worked at NBC before moving to CBS. He was the first producer of "Face the Nation", where his first guest was Senator Joseph McCarthy, and where he won a Hillman Award for the 1957 interview with Nikita Khrushchev,[5] and was once held at gunpoint during an interview with Fidel Castro.[6] Some months after producing the ABC coverage of the Gemini 5 flight in August 1965, he was found dead in his Washington apartment.[7] He is buried in Arlington National Cemetery.[8]
Community content is available under
CC-BY-SA
unless otherwise noted.