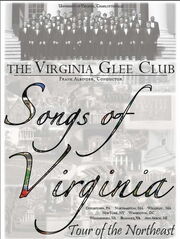 The 2010 "Songs of Virginia" Tour of the Northeast of the Virginia Glee Club, Frank Albinder conducting, was the culmination of the 2009-2010 season. The tour took the Club to destinations in Pennsylvania, Massachusetts, New York, Washington DC, Virginia, and Michigan. The tour, held March 5 through March 13, 2010, concluded with a three-Glee Club concert, "Celebrating 440 Years of Song", with Harvard, Michigan and Virginia glee clubs singing in honor of the University of Michigan Glee Club's 150th year, the 150th year of the Harvard Glee Club, the retirement at the end of the 2009-2010 season of longtime Harvard Glee Club director Jameson Marvin, and the new president of the University of Virginia, University of Michigan provost Teresa Sullivan.[1]
Frank Albinder covered the tour on his tour blog.
Date
Venue
Guests
March 5, 2010
Central Bucks West High School, Doylestown, PA
Central Bucks West High School Men's Glee Club
March 7, 2010
Smith College, Northampton, MA
Smith College Glee Club
March 8, 2010
Wellesley College, Wellesley, MA

Wellesley College Choir
Boston Saengerfest Men's Chorus

March 9, 2010
Madison Avenue Presbyterian Church, New York, NY
March 10, 2010
New York Avenue Presbyterian Church, Washington, DC
March 11, 2010
Williamsburg Presbyterian Church, Williamsburg, VA
March 12, 2010
St. John's Episcopal Church, Roanoke, VA
Oriana Singers, Jeffrey Sandborg
March 13, 2010
St. Thomas the Apostle Catholic Church, Ann Arbor, MI
University of Michigan Glee Club
Harvard Glee Club
The Glee Club performed the Fauré Requiem at Smith College. For their solo performances, repertoire was selected from the following:
Community content is available under
CC-BY-SA
unless otherwise noted.