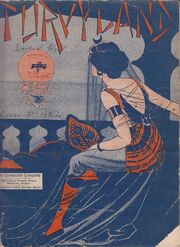 Turvyland was an opera written by W.B. Harrison, with contributions by Nevil Henshaw, and performed by the Arcadians in 1910. The cost of producing the opera was so high that it bankrupted the Arcadians, leading to the return of the Virginia Glee Club in the Glee Club 1910-1911 season.[1]
The Turvyland song book, including a full vocal score of the work, was sold by the University Company for $2.00.
According to an account in the Alumni Bulletin, the performances of Turvyland met with general acclaim, but their report also noted the financial issues that dogged the production:
The Arcadians presented this season a musical comedy entitled "Turvyland," by Wm. B. Harrison of the law department. From an artistic standpoint the show was quite a success although from a financial standpoint we understand the success was not as great. The first performance was given in Cabell Hall February 7. The following four nights were spent in Richmond, Petersburg, Roanoke, and Lynchburg. February 18, a performance was given in Staunton. February 22, the company left for the western trip. Performances were given in Harrisonburg, Va., Charleston, W.Va., Louisville, and Lexington, Ky. The season closed with the two Easter performances, in Cabell Hall, April 1, and in Staunton, April 2.[2]
The cast of Turvyland included both Arcadians members and members of the general college, including some who would reform the Glee Club in the Glee Club 1910-1911 season.
Boola Bung, the King's Prime Minister … N. Ewing, Jr.
Dr. O. Josiah Plunk, Promoter of Plunk's Purifier … Beverly F. Hall
Billy Flint, a Young American … W.B. Harrison
Rev. Pull Pitt, A Missionary Plenipotentiary … J.C. Warner
Whata Tanka, Once the Town Drunk … S.D. Lamon
Hocolacheetupah, an Exiled Magician … C.W. Stevens
Parachuta, Sister to Boola Bung … Horace Geyer Jr.
Toola Lung, Captain of the King's Guard … G.P. Waller
Senoma, Daughter of the King … T.M. Forsyth
Messenger … A. Hitch
Balloona, King of Turvyland … Cuffy Bean
Villagers, women soldiers, washermen, etc., etc.,
Community content is available under
CC-BY-SA
unless otherwise noted.