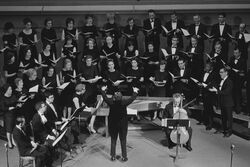 The University Singers are a large mixed voice choir at the University of Virginia. At various times in their history, they have performed with the Virginia Glee Club, and have had several directors in common, including Donald MacInnis, Donald Loach, and Michael Slon.
In the original plan proposed by the McIntire Department of Music in 1989, the University singers would have become a small mixed voice ensemble when the Virginia Glee Club and Virginia Women's Chorus were merged into a large mixed choir. When this plan failed to meet approval of the student leadership of the groups involved, the University Singers were enlarged into the large mixed voice choir envisioned by the plan, and a new group, Coro Virginia, was created to provide a small mixed voice ensemble.
The University Singers have appeared in concerts many times with the Virginia Glee Club, including an annual appearance in the Family Weekend Choral Showcase since the early 2000s.
Community content is available under
CC-BY-SA
unless otherwise noted.