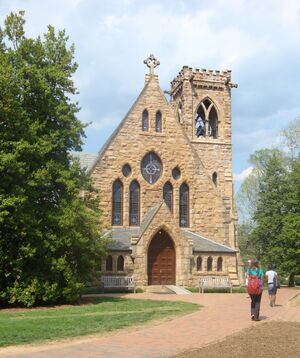 The chapel of the University of Virginia is the only building with a dedicated religious function at the University. Built between 1885 and 1889, being completed 63 years after University founder Thomas Jefferson's death, the chapel has become part of University tradition by becoming a traditional site for alumni weddings.
In the late 19th and early 20th century, the chapel had its own University of Virginia Chapel Choir which performed for services; Alfred Lawrence Hall-Quest was the director from 1915 to 1917.
The Virginia Glee Club has used the chapel as a performance venue, principally concerts of predominantly sacred music and more recently for the season ending Finals Concerts.
Glee Club performances
[
]
External links
[
]