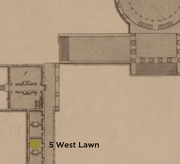 Are you a Fossil who lived on the Lawn or the Range (or the Crackerbox)? Or are you a Club Guy who's thinking about living there someday? Either way, a new resource is available to you that indexes every known Club member who lived on the Lawn from 1895 to the present day, alphabetically and by room (choose East Lawn, West Lawn, East Range, West Range, or Crackerbox).
The University's Lawn directory starts in 1895, as records from earlier days were lost in the burning of the Rotunda in October of that year. Since that time, 294 Club guys (as of the present writing) have lived in Lawn or Range rooms. The numbers break down as follows: 115 guys lived on West Lawn; 73 on East Lawn; 58 on West Range; 91 on East Range; and 1 in the Crackerbox. (Hi, Kelly Caylor!) It's worth noting that in the early years, it wasn't just graduating students who lived on The Lawn, and even in modern times there were a few Lawnies who moved on the Range, so the sum of counts by Lawn neighborhood exceeds the count of individual residents.
And, of course, the most popular room, by far, was 5 West Lawn, which was occupied by Club guys more or less continually from 1976 to 1994, but which also had Club occupants from as early as 1897, and which has 21 named Club occupants. The second most popular room? 3 West Lawn and 40 East Range (7 Club occupants each), followed by 7 West Lawn and 13 West Lawn (6 each).
Our records are incomplete, so if you notice that your name (or that of one of your singing mates) is missing from the registry, please let us know at gleeclubhistorian@gmail.com or comment on this page.
Community content is available under
CC-BY-SA
unless otherwise noted.