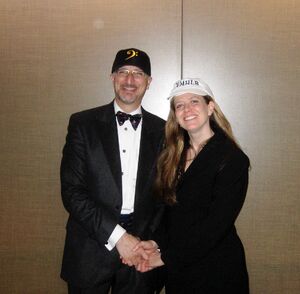 VMHLB is an unofficial motto of the Virginia Glee Club. Originating on one of the Club's first rolls after the separation from the Music Department in the late 1980s, the motto, which officially stands for Virginia's Messengers of Harmony, Love, and Brotherhood, has become akin to a second identity for Club, with VMHLB merchandise and references to VMHLB abounding in programs from the era.
Merchandise
[
]
The first official club VMHLB merchandise (not counting roll t-shirts) was the VMHLB ball cap. The caps, which are white with VMHLB lettering in blue, were first ordered for the Tour of the South (1992). The caps have been given to various Club dignitaries and friends over the years, including Katie Couric at the Thomas Jefferson 250th birthday concerts at Monticello and Lisa Graham, director of the Wellesley College Choir.
Vihem Aeschlbie
[
]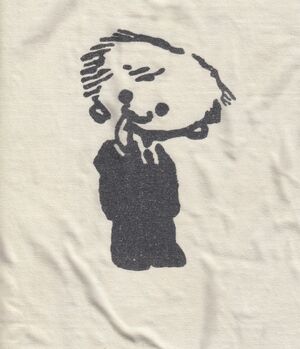 It has been speculated that VMHLB is a back-formation from Vihem Aeschlbie, a Club member whose name appears in programs beginning in the 1992-1993 season. It should be noted that Vihem's membership in Club post-dates the adoption of the motto (as evidenced by the Tour of the South (1992) t-shirt). Other evidence, such as his ability to sing every vocal part, suggests that Vihem is a supernatural entity, a sort of über-Glee Clubber, but no proof has yet been found that he was brought into being by the sheer force of will of VMHLB.