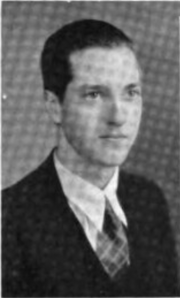 Werner Lutz Janney (October 19, 1912 in Lincoln, Virginia – December 19, 2000)[1][2] was a member of the Virginia Glee Club during the Glee Club 1933-1934 season. A fourth year during the season, he was also a member of the Jefferson Literary and Debating Society and associate editor of the University of Virginia Magazine.[3]
Janney was a member of the Society of Friends (Quakers) and was a conscientious objector during World War II. He later wrote a history of the Quakers in Northern Virginia, entitled Ye Meetg Hous Smal.[4]
Community content is available under
CC-BY-SA
unless otherwise noted.