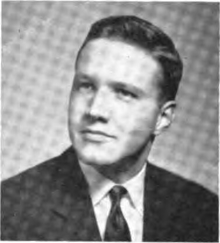 William A. Forrest (November 19, 1929 in Richmond, Virginia – November 27, 2017)[1][2] was a member of the Virginia Glee Club during the Glee Club 1949-1950 season. Completing his undergraduate degree in 1951, he was also a member of the Raven Society, Delta Kappa Epsilon, Omicron Delta Kappa, Phi Alpha Delta, IMP Society, T.I.L.K.A., the German Club, Skull and Keys, Pi Delta Epsilon, assistant business manager of the Cavalier Daily, the V Club, and the Thirteen Society.[3][4]
After serving in the United States Army, Forrest completed a law degree at the University in 1956. He was a partner in the firm of McGuire, Woods & Battle, and Vice President, Secretary and General Counsel at A.H. Robins. He also served as the president of the UVA Alumni Association from 1978 to 1979, during which time he helped set the wheels in motion for the Jefferson Scholars Program. It was revealed at his death that he had been a member of the Seven Society.[5]
Community content is available under
CC-BY-SA
unless otherwise noted.