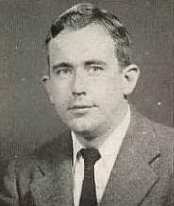 William Horner Brown (March 30, 1924 in Fairmont, West Virginia – August 21, 2010)[1] [2]was a member of the Virginia Glee Club during the Glee Club 1942-1943 and 1943-1944 seasons. Graduating in 1948, he was also a vice-president of the Y.M.C.A. and a member of the University Center, Dolphin Society and Dog Watch.[3] He lived in 38 East Range[4] in 1943–1944 and in 8 East Lawn[4] in 1944–1945.
He served in the United States Navy during World War II. He completed his undergraduate degree at UVa in 1949 and his law degree in 1952. He was the mayor of Scottsville, Virginia and served on the Electoral Board of Albemarle County, Virginia and as the Assistant Attorney General in charge of St. Croix in the United States Virgin Islands.[2]
Community content is available under
CC-BY-SA
unless otherwise noted.