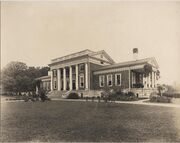 The Young Men's Christian Association (or Y.M.C.A.) at the University of Virginia, now known as Madison House, is the oldest college "Y" in the world. Established in 1858 by the Reverend Dabney Carr Harrison, the University chaplain,[1] the Y.M.C.A. was active under its original mission until 1968-1969, when it faced declining membership and transformed itself into the current day Madison House.
In 1901 the headquarters of the Y.M.C.A., Madison Hall, was constructed at Rugby Road's Mad Bowl with a donation from Mrs. William E. Dodge of New York.[2] The Y offered both religious and social activities at Madison Hall, and the building served as the de facto student union until the construction of Newcomb Hall in the 1950s.[3]
In 1968-1969, amid much transition at the University, the Y.M.C.A. faced declining membership. Faced with a very real likelihood of dissolution, under the leadership of a group of undergraduates the corporation reincorporated as the Master and Fellows of Madison Hall, and University president Edgar Shannon invited the newly reinvigorated organization to serve as the Office of Community Service for the University.[4] The organization sold the original Madison Hall to the University in 1971, and constructed a smaller facility on Lewis Mountain Road across from Memorial Gymnasium. Madison House now houses various volunteer programs including tutoring programs, Big Brother - Big Sister, and others. Madison Hall received the Seven Society's Organization Award in 1971 for its services to the University.
The following categories list Glee Club members who were associated with the Y.M.C.A. or Madison House:
Community content is available under
CC-BY-SA
unless otherwise noted.