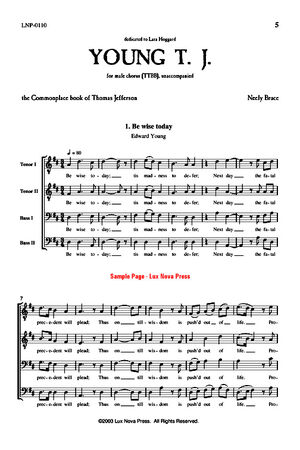 Young T.J., an unaccompanied vocal work for TTBB male chorus, was commissioned by John Liepold and the Virginia Glee Club from composer Neely Bruce in commemoration of Thomas Jefferson's 250th birthday, observed on Founder's Day, April 13, 1993. The work sets ten extracts from Jefferson's Commonplace Book in a style reminiscent of Sacred Harp and other shaped note singing. The work was premiered by the Glee Club during their 1993 Spring Concert and performed several times in honor of Jefferson's birthday, including on the Today Show in a performance from Monticello, at the national celebration of Jefferson's birthday at the Jefferson Memorial for President Bill Clinton, and on Voice of America radio.
A recording of this concert is available at the composer's page. The recording is drawn from an NPR session done prior to April 13, 1993 and aired on that date.
Jefferson used his Commonplace Book from the ages of 15 to 30 as a way to record texts that inspired him, texts originally by various poets and playwrights in Latin, Greek, French, and English. The original sources for the texts of each movement are listed below:
Edward Young, Night-Thoughts
William Shakespeare, Henry VI
Nicholas Rowe, The Fair Penitent
Edward Young, Night-Thoughts
Thomas Otway, Don Carlos
Nicholas Rowe, Tamerlane: A Tragedy
William Congreve, The Mourning Bride
Anonymous (Jefferson?)
Homer, The Iliad (trans. Alexander Pope)
John Langhorne, A Hymn to Hope
This article has more context at Jarrett House North, the blog of the historian of the Virginia Glee Club Alumni and Friends Association.
Community content is available under
CC-BY-SA
unless otherwise noted.